---
Milan, CEO Summit of 15 July 2021: Excellencies Tell the Restart
Success stories for a new Renaissance of the Italian system. Once again a recognition of excellence in the profession of accountants at "Le Fonti Awards@", 11th edition. Studio Gullì of Dr. Tina Gullì, won the "Excellence of the Year as Leadership Tax Assistance" award. Le Fonti TV is the first Italian live streaming TV dedicated to the economy.
To win is not taken for granted, behind every success there is a lot of team work, sacrifice, a lot of professional work and perseverance. Every business success of our customers is also our victory, so our best victory is the next one.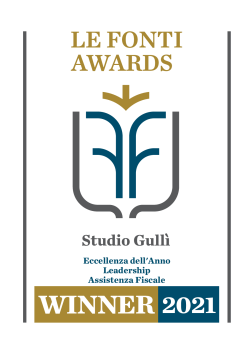 ---
PRESTIGE AWARDS 2020/21 – Italy BEST IN ACCOUNTANTS OF THE YEAR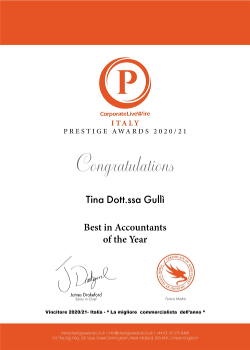 Tina Dott.ssa Gullì
Click to download the certificate.
Owned by Tina Gullì, The Gullì Studio is an accounting firm that provides business and accounting assistance with professional advice in the fiscal, administrative and tax fields in Orbassano and throughout Turin.
The studio specialises in budget analysis and the drafting of financial statements, financial cost analysis, investment analysis, and form preparation. In addition to accounting and auditing, the firm can assist with data processing, business consultancy and the management of contributions.
The firm aims to help clients in all phases of business to reach new heights through its strategic accountancy and money management measures such as risk diversification.
" TINA HAS EXCEPTIONAL KNOWLEDGE AND SKILL WHEN IT COMES TO INCREASING HER CLIENT'S MONETARY OPPORTUNITIES AND PROFESSIONAL PARTNERSHIPS WITHOUT COMPROMISING THEIR"
The judges admired Tina for creating an accountancy service that has proven it cares about its client's money, and uses a range of highly strategic and effective methods to ensure stability and success.
One such strategy is internationalisation of investment, which dilutes a company's dependence one a single market, allowing it to remain steady through periods of market instability.
It is, therefore, clear that Tina has exceptional knowledge and skill when it comes to increasing her client's monetary opportunities and professional partnerships without compromising their financial security.